Taught by Mr. Maurice A. Gomez Sr., Our tactical self defense training classes are available for individuals looking to get into law enforcement, existing law enforcement, police and military officials of all types. We currently offer trainings to police departments, first responders, SWAT teams and sheriff departments. Other responder units make inquiries as well, give us a call and we will discuss your teamís needs.
The tactical self defense training program is similar to what you'll experience at your recruit academy and is a physically demanding and intensive training program. The program provides instruction on techniques used in controlling compliant and non-compliant suspects, weapon recovery, arrest techniques, control tactics, edged weapons and intermediate weapons.






Prerequisites
Must be a law enforcement officer/agent with arrest authority in the prevention, detection, apprehension, detention and/or investigation of felony and/or misdemeanor violations of federal, state, local, tribal, or military criminal laws or currently in the process of becoming one.
Must be in good physical condition with no medical restrictions.
Must be able to participate in Intensive Training lasting up to 8 hours.
Required Training Materials
Students are encouraged to bring personal duty gear but it is not required.


Program Curriculum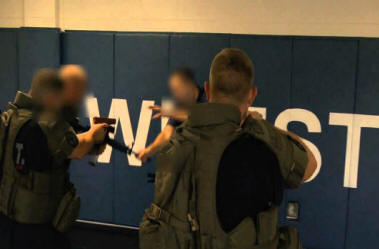 Use of Force
OleoResin Capsicum (OC) Spray
Baton Control Techniques
Edged Weapon Awareness
Instructional Methodologies
Introduction to Physical Techniques
Physical Efficiency Battery
Tactical Simulation Training
Injury Prevention
Arrest Techniques
Defensive Tactics
Striking and Close Quarter Defensive Tactics